You are here
Back to top
The Other End of the Leash: Why We Do What We Do Around Dogs (Paperback)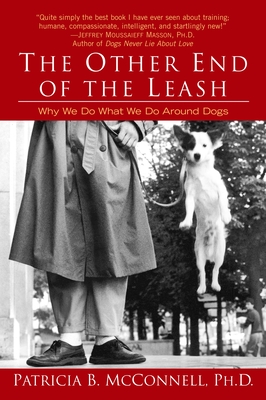 Description
---
Learn to communicate with your dog—using their language
 
"Good reading for dog lovers and an immensely useful manual for dog owners."—The Washington Post
 
An Applied Animal Behaviorist and dog trainer with more than twenty years' experience, Dr. Patricia McConnell reveals a revolutionary new perspective on our relationship with dogs—sharing insights on how "man's best friend" might interpret our behavior, as well as essential advice on how to interact with our four-legged friends in ways that bring out the best in them.
 
After all, humans and dogs are two entirely different species, each shaped by its individual evolutionary heritage. Quite simply, humans are primates and dogs are canids (as are wolves, coyotes, and foxes). Since we each speak a different native tongue, a lot gets lost in the translation. This marvelous guide demonstrates how even the slightest changes in our voices and in the ways we stand can help dogs understand what we want. Inside you will discover:
 
• How you can get your dog to come when called by acting less like a primate and more like a dog
• Why the advice to "get dominance" over your dog can cause problems
• Why "rough and tumble primate play" can lead to trouble—and how to play with your dog in ways that are fun and keep him out of mischief
• How dogs and humans share personality types—and why most dogs want to live with benevolent leaders rather than "alpha wanna-bes!"
 
Fascinating, insightful, and compelling, The Other End of the Leash is a book that strives to help you connect with your dog in a completely new way—so as to enrich that most rewarding of relationships.
About the Author
---
Patricia McConnell, Ph.D., CAAB is an ethologist and certified applied animal behaviorist who has consulted with cat and dog lovers for more twenty-two years. She combines a thorough understanding of the science of behavior with years of practical, applied experience. Her nationally syndicated radio show, Calling All Pets, played in more than 110 cities for fourteen years and her television show Petline played on Animal Planet for two and a half years. She was the behavior columnist for The Bark magazine ("The New Yorker of dog magazines"—Time) and is adjunct professor in Zoology at the University of Wisconsin-Madison, teaching "The Biology and Philosophy of Human/Animal Relationships." Dr. McConnell is a much sought-after speaker and seminar presenter, speaking to training organizations, veterinary conferences, academic meetings, and animal shelters around the world about dog and cat behavior, and on science-based and humane solutions to serious behavioral problems. She is the author of thirteen books on training and behavioral problems, as well as the critically acclaimed books The Other End of the Leash (translated into fourteen languages), For the Love of a Dog, and Tales of Two Species. She lives with her Border Collies, Willie and Maggie, her rescue Cavalier Spaniel, Tootsie, and a very spoiled flock of sheep, and suffers from separation anxiety when she leaves them.
Praise For…
---
"Good reading for dog lovers and an immensely useful manual for dog owners."—The Washington Post

"Vivid anecdotes and keen insights . . . a wonderful book . . . [that] exudes wisdom and passion throughout."—Bark magazine

"Excellent . . . Warm and informative, The Other End of the Leash teaches us to bridge some differences and to honor others."—Dog Fancy

"McConnell explores dog-human communication with down-to-earth science and entertaining anecdotes. . . . Whether you have a dog with a behavioral problem or you just like dog stories, this book is a milestone in the field and a great read."—Atlanta Journal-Constitution

"Patricia McConnell understands the behavior of dogs and their owners as Jane Goodall understands chimpanzees. . . . Well written, insightful, and often moving . . . A must-read for everyone who holds one end of a leash."—Charles T. Snowdon, Ph.D. Former President, Animal Behavior Society

"McConnell's book offers unique insights into canine logic. Even humans—and this is her greatest achievement—start to make some sense here."—Savannah News