You are here
Back to top
8 Steps to Paying Less for College: A Crash Course in Scholarships, Grants, and Financial Aid (College Admissions Guides) (Paperback)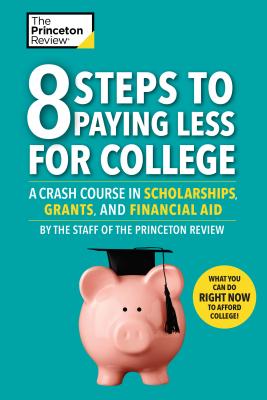 Description
---
FINANCIAL AID MADE EASY! This concise, easy-to-follow guide breaks the confusing college financial aid process down into 8 simple steps to help you afford your education.

Alas, not everybody started saving for college when their kid was in diapers. But there's still hope—and help! This friendly guide distills the confusing financial aid process into 8 clear, actionable steps you can take RIGHT NOW to help afford college.

The underlying message is simple: Parents and students who understand how to apply for financial aid get more financial aid. Armed with the checklists, timelines, and info in this book, you'll be able to:

• Figure out what colleges actually cost
• Understand grants, loans, work-study, and other forms of aid
• Get to know the FAFSA® and CSS Profile(TM)
• Research scholarship opportunities
• Quickly compare financial aid offers from different schools
• Find creative ways to lighten your debt load

Note: This book is designed to be a quick primer covering the most useful core finanicial aid information. For students and parents looking for comprehensive, A-Z guidance—including long-term strategies and step-by-step help on the forms—check out Paying for College, The Princeton Review's classic and definitive guide to the A-to-Zs of financial aid.
About the Author
---
The experts at The Princeton Review have been helping students, parents, and educators achieve the best results at every stage of the education process since 1981. The Princeton Review has helped millions succeed on standardized tests, and also provides expert advice and instruction to help parents, teachers, students, and schools navigate the complexities of school admissions. They offer classroom courses in 41 states and 21 countries, online and school-based courses, and one-to-one and small group tutoring.