You are here
Back to top
Motocross and Off-Road Motorcycle Setup Guide (Motorbooks Workshop) (Paperback)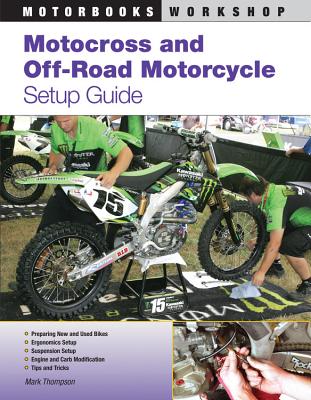 $26.99

Usually Ships in 1-5 Days
Description
---
For many motorcyclists, the most popular part of a cycle magazine is the question-and-answer section dealing with maintenance, modification, and setup how-to information. The Motocross and Off-Road Motorcycle Setup Guide eliminates guesswork by providing setup and maintenance information every rider needs in a series of step-by-step photo sessions and to-the-point chapters.
Author Mark Thompson focuses on the basic tasks and setup challenges encountered by all dirt bike owners, regardless of bike brand, size, or age. Whether it's changing a tire, lubricating a cable, replacing a chain, or setting up suspension components, The Motocross and Off-Road Motorcycle Setup Guide is an essential tool for anyone who rides in the dirt.
About the Author
---
Mark Thompson began racing motocross in 1969. He is the former editor of several national motorcycle magazines, has written thousands of magazine articles for a wide variety of publications, and is the author of MBI\u2019s Motocross and Off-Road Training Guide. He currently owns Bear Sports in West Chester, Ohio, a motocross performance shop that specializes in both vintage and modern motocross products and services.