You are here
Back to top
The Daily Coyote: A Story of Love, Survival, and Trust in the Wilds of Wyoming (Paperback)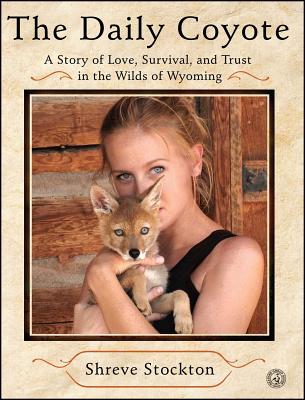 $17.00

Usually Ships in 1-5 Days
Description
---
• A fascinating true tale: When city girl Shreve Stockton set out to ride her Vespa from San Francisco to New York, she never imagined she'd end up staying in Wyoming, falling in love with a trapper, and working as a ranch hand. Nor could she have forseen meeting Charlie, the orphaned coyote pup who made Stockton's log cabin his home. In a world where coyotes are hunted as killers, Stockton and Charlie faced challenges—as well as joys—throughout their first year, each of which came with revelations about life, love, and the bond between humans and nature. .

• Based on an award-winning blog: The Daily Coyote was inspired by Stockton's blog of the same name. Wildly popular and hailed by Rosie O'Donnell, Vanity Fair , and the L.A. Times , the site receives over a million hits per month and was the winner of the 2007 Weblog of the Year Award only a month after its inception. .

• A moving visual memoir: Stockton documents Charlie's first year in stunning full-color photography. Each month's entry is accompanied by rich images of Charlie as he grows from adorable pup to wily adult, alongside Stockton's tomcat, Eli, and set against the wide-open landscapes of Wyoming. .
About the Author
---
Shreve Stockton is a writer and photographer currently living in Wyoming. She received her bachelor's degree in photography in 2001 from Brooks Institute of Photography. She is the author of a cookbook, Eating Gluten Free, and of two weblogs, Vespa Vagabond and The Daily Coyote.