You are here
Back to top
The Everything Guide to Study Skills: Strategies, tips, and tools you need to succeed in school! (Everything®) (Paperback)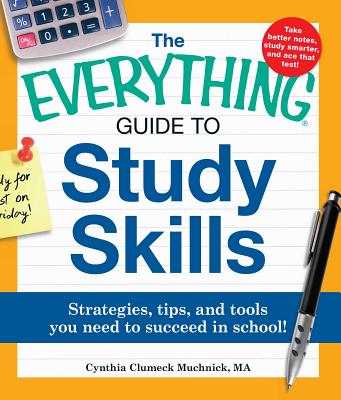 $15.95

Usually Ships in 1-5 Days
Description
---
Here's something worth learning: Studying doesn't have to be a chore! This fun and accessible resource provides the tools you need to develop better study habits, boost your grades, and position yourself for academic success.
Educational consultant Cynthia Clumeck Muchnick uses a wide range of ideas taken from hundreds of students to help you find a unique, effective method suited for your individual learning style. You'll improve transcripts for college applications, ace standardized tests, and become a better student at any level of education.
This indispensable guide shows you how to:
Get the most out of class time
Use the best strategies for note-taking and memorizing
Improve writing skills
Prepare completely for tests
Safely and effectively conduct online research
Use Skype, iChat, or social media to form study groups
With this guide in your backpack, you'll be able to balance school and activities, avoid pre-test panic, and achieve consistently better results.
About the Author
---
Cynthia Clumeck Muchnick, MA is an accomplished educator, author, and educational consultant. She worked as an Assistant Director of Admission for both the University of Chicago and the Illinois Institute of Technology, taught SAT prep for the Princeton Review, and was a high school history teacher. Currently, Cindy is an educational consultant, privately counseling 8th- through 12th-grade students. She assists students with class selection, study and writing skills, planning extracurricular/summer activities, test prep, and college admission. She presents seminars and workshops on high school and college success, writing college essays, the college application process, and study skills. Cindy is the coauthor of Best College Admission Essays.