You are here
Back to top
How To Help Your Child Succeed On The SAT/ACT: The Ultimate Guide for Parents to SAT/ACT Success (Paperback)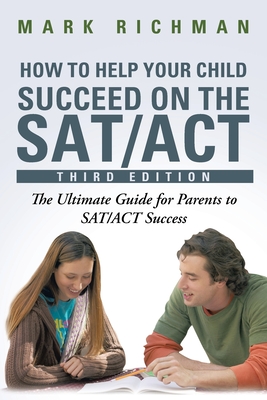 Description
---
Your Child Can Survive and Thrive on the SAT and ACT Exams
"How To Help Your Child Succeed on the SAT and ACT" will serve as your road map to ease you along the often bumpy, unpaved and pothole - filled highway to successful results on these important College entrance exams.
This book has helped thousands of parents greatly improve the SAT and ACT Exam results of their children. It can help you and your children as well.
Discover how easy it is to:
-Increase Scores In All SAT/ACT Exam Areas: Math, Grammar, Vocabulary, Reading Comprehension, Essay Writing, and Science. Through a unique combination of strategies, guidance, suggestions, networking, using both new as well as traditional techniques, your children will become motivated to study and will even look forward to their exam prep. They will be provided with opportunities for positive outcomes and the building of confidence in a framework of success and excitement.
- Manage Their Study Time and Preparation. Mr. Richman will supply you with a blueprint for successful exam preparation via a structured system of procedures that will answer nearly all of your SAT/ACT preparation questions and will cover nearly every situation that could arise in this critical exam planning.
-Build Pupil Self-Esteem. This book will help you gain the insight necessary to aid your children in increasing their self-esteem, so critically important to their personality development and exam success.
"Mark Richman has been extremely successful in his 44 years of teaching and tutoring. He is an amazing SAT/ACT tutor who has helped my three children prepare for (and succeed on) these college entrance exams. I highly recommend this superb book." Paul Fili - 30 Year Veteran Teacher - NYC Public Schools