You are here
Back to top
Animals in Spirit: Our faithful companions' transition to the afterlife (Paperback)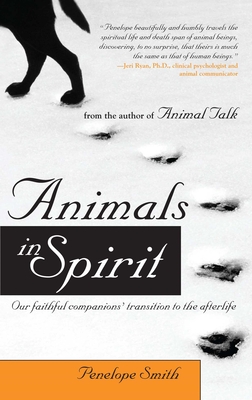 $16.99

Usually Ships in 1-5 Days
Description
---
From a pioneer in the field of interspecies communication for more than forty years, Penelope Smith's Animals in Spirit teaches you how to release the feelings of loss and separation that follow the death of a beloved pet and instead stay connected to your pet before, during, and after they cross over the rainbow bridge.

Losing an animal companion can be a painful experience, yet by examining their transition from a spiritual perspective, Animals in Spirit explores the process of dying from the viewpoints of both pets and their people. Learn how animals choose their paths in each life and the knowledge they leave behind for their human families. As animals make their way from the physical into the spiritual realm, Animals in Spirit can strengthen the union with our beloved friends by teaching us to accept and understand the full experience of the cycle of life.

Our dear pets and companions may be gone from this world, but there is comfort to be had in the knowledge that we can still commune with them and that this is not really goodbye. With true stories, insights from animals and their human friends, as well as meditations to ease the mourning process or help you to communicate with animals in the spirit realm, Animals in Spirit will help heal the feelings of grief and separation by connecting you to your faithful companion in spirit.
About the Author
---
Penelope Smith is the well-known pioneer in the field of interspecies communication for more than forty years, author of the popular books Animal Talk and When Animals Speak, and editor of the quarterly magazine Species Link. Her visionary work has been featured in the United States and abroad. She has developed amazing telepathic communication techniques that complement both ancient wisdom and modern scientific knowledge and believes that the sacred connection we make through telepathic communication with other species is essential for human wholeness. She lives in Prescott, Arizona.
Praise For…
---
"Penelope beautifully and humbly travels the spiritual life and death span of animal beings, discovering, to no surprise, that theirs is much the same as that of human beings." - Jeri Ryan Ph.D., clinical psychologist and animal communicator.

"The most beautiful and moving spiritual adventure I have ever encountered. What an affirmation of the miracle of life!" -- Patricia Graham

"Penelope shares benefi cial, though somewhat controversial, insights. Her wisdom and compassion shine through this profound book. Read it and awaken to healing perspectives about our kindred spirits and how we can all live together in pure love." -- Allen M. Schoen, D.V.M., author of Kindred Spirits