You are here
Back to top
The Complete Book of Ground Covers: 4000 Plants that Reduce Maintenance, Control Erosion, and Beautify the Landscape (Hardcover)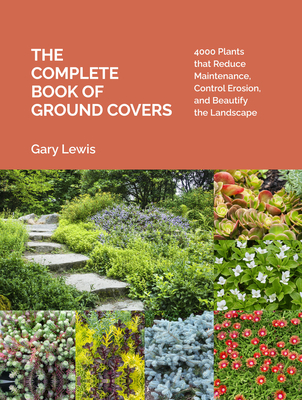 $50.00

Usually Ships in 1-5 Days
Description
---
Winner of a Golden Laurel at the 2023 GardenComm Media Awards

"A magnum opus of ground covers that deserves a place in every gardener's library." —Tony Avent, founder and owner Plant Delights Nursery

Ground covers are widely thought of as utilitarian—we turn to them when we have a problem that needs a solution. Yet these plants also offer a diverse range of beautiful and intriguing options with a variety of colors, textures, and forms. They can unify a landscape, knit together plantings and hardscape, and add extra layers of beauty, dynamism, and surprise. As a replacement for lawns, they can reduce our use of water, fertilizer, pesticides, herbicides, carbon-based fuels, and transform a yard into a diverse landscape of habitat and food for native insects, birds, and other wildlife.
 
In this meticulously researched reference, nurseryman Gary Lewis profiles more than 4000 ground covers that can perform these roles with aplomb. No matter what kinds of conditions you're facing—shade, dry soil, heavy clay, excess moisture—there's a ground cover that will thrive and beautify your garden. Comprehensive, practical, and copiously illustrated, this indispensable volume belongs on the shelf of every designer, landscape architect, and serious gardener.
About the Author
---
Gary Lewis has had a life-long interest in plants and gardening. His retail and mail order nursery, Phoenix Perennials, located in Richmond, BC, offers more than 5000 different plants. Gary has written for various garden magazines including Fine Gardening and has been a frequent guest on local and regional radio and television stations in British Columbia. He speaks regularly to garden clubs around BC and the Pacific Northwest and has presented at conferences across North America. In 2013 he was selected as Communicator of the Year by the BC Landscape and Nursery Association and in 2014 as one of Canada's Top 10 Horticultural Professionals under 40 by Greenhouse Canada magazine. He has served on the Board of Directors for the Perennial Plant Association and is a committee member of Great Plant Picks.
 
Praise For…
---
"A magnum opus of ground covers that deserves a place in every gardener's library." —Tony Avent, founder and owner Plant Delights Nursery

"A well-researched compendium of both usual suspects as well as unusual choices seldom considered for the job." —Daniel J. Hinkley, author of Windcliff, director emeritus of Heronswood

"Grounds covers play a critical role with our changing environment in nature, parks, and landscapes. Lewis captures the breadth and depth of their important values to us and our planet." —Brian Minter, award-winning gardening expert, author, and TV and radio host

"A sensible approach to these complex plants and gives us encyclopedic informaion on thousands of them." —Marjorie Harris, author of Thrifty Gardening from the Ground Up

"Too much turf? Steep bank? Problem soil or watering regime? The Complete Book of Ground Covers has the answer to these and many more landscape problems." —Panayoti Kelaidis, director of outreach and senior curator, Denver Botanic Gardens

"An excellent gift for any avid gardener."—Vancouver Sun

"Expert advice on groundcover plants of varying color, textures, and forms for a wide range of situations and conditions."—Gardens Illustrated