You are here
Back to top
The Fast Times of Albert Champion: From Record-Setting Racer to Dashing Tycoon, An Untold Story of Speed, Success, and Betrayal (Hardcover)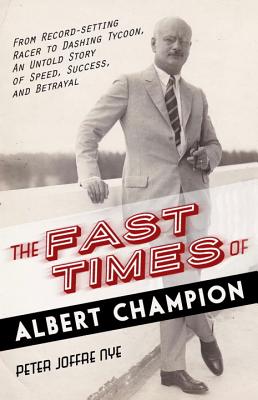 Description
---
RACER. INNOVATOR. CELEBRITY. MOGUL. CHAMPION.

This is the first biography of the short but exciting life of Albert Champion—record-setting bicyclist and motorcyclist, daredevil racecar driver, early automobile innovator, charismatic ladies' man, and celebrity of the Jazz Age.
 
Though most Americans have heard of the companies Albert Champion founded—ACDelco and Champion Spark Plug—few know much about the charismatic man behind them. Like a Richard Branson of the early 20th century, or an Evel Knievel with a business degree, Champion was a powerhouse whose life was defined by both speed and success.

Champion rose from poverty in Paris to great wealth and fame in both his native France and the United States. As a bicycle racer, Champion set more than a hundred world records. When the urban speed limit was 8 mph, he was the first ever to drive a motorcycle a mile under a minute. A car-racing crash snapped a leg bone that kept him in traction for eleven weeks. Undeterred, he hobbled out of the hospital on crutches and recovered to win the French national cycling championship.

Champion invested his prize money to become a tycoon in the new and revolutionary American auto industry, working closely with the leading players and amassing thirty US. His contemporaries included Charles Lindbergh, who endorsed Champion's product by saying, "AC Spark Plugs kept my engine running perfectly."; Louis Chevrolet, whom Champion backed financially until it came out that he was trying to seduce Chevrolet's wife, which led to a fight and the end of their friendship; and William Durant, founder of a "new holding company" called General Motors.

A notorious ladies' man, Champion's many dalliances were fodder for the papers and finally ended in a love triangle that resulted in his death under mysterious circumstances.
About the Author
---
Peter Joffre Nye has written for the Washington Post, USA Today, Sports Illustrated, the Denver Post, and many other publications. Among his many books is Peak Business Performance under Pressure, which he coauthored with Bill Driscoll. He also wrote the script for the documentary The Six-Day Bicycle Races: America's Jazz-Age Sport and converted it to a coffee-table book with the same title. He studied at Ball State University and the London School of Economics, and he earned an MFA in Creative Nonfiction from Goucher College.
Praise For…
---
"This first biography of the AC Delco and Champion Spark Plug founder gives a glimpse into the advent of modern transportation in the Jazz Age through the story of a man who lived in the fast lane."

—MICHIGAN HISTORY MAGAZINE

"[The] story you can't believe you've never heard before involves Albert Champion…. a record-setting bicyclist and motorcyclist in his native France, then a daredevil race-car driver, and eventually a pioneering tycoon in the American automotive industry…. [His] tale is worth being told…. A diamond-in-the-rough compelling read."

—LIBRARY JOURNAL  

"The narrative peers inside the early, kicking days of the car business, punctuated with the likes of Louis Chevrolet and Champion's short-time boss, Bill Durant. This is an overdue work."

—HEMMINGS CLASSIC CAR 

"In The Fast Times of Albert Champion, the first biography of the legendary founder of ACDelco and Champion Spark Plug, Peter Joffre Nye uncovers the remarkable and important story of the Jazz Age celebrity/daredevil and devilish genius from Paris who made his fortune in America and cavorted with Lindbergh, Durant, Chevrolet (and Chevrolet's wife)—and died mysteriously like he lived, in the fast lane."

—MICHAEL CAPUZZO, author of the New York Times bestsellers Close to Shore and The Murder Room

"Albert Champion may be largely forgotten, but he seems to have been everywhere at a time when the world found new ways of fast transport—racing bicycles and motorcycles and cars—and then, after somehow outriding death, he became one of the most successful entrepreneurs of the wild new automobile industry. Bon vivant, a charmer, even a bit of a scoundrel, Champion is brought wonderfully to life by Peter Nye in an engaging biography of the man who lived up to his name, speeding through life on and off the track."

—FRANK DEFORD, author and sports commentator on NPR's Morning Edition

"Albert Champion's life gives us a view of our history that is full of surprises and highly entertaining to boot. Nye knows how to transform treasure troves of historical detail into a gripping story set in a brilliantly illuminated period of American life—when the bicycle was the icon of glamour and speed."   

—SUZANNAH LESSARD, author of The Architect of Desire

"Fistfights, championship bicycle races, and car parts: Albert Champion was more than namesake of Flint's AC Spark Plugs."

—FLINT JOURNAL  

"Nye details how this poor Parisian, born in 1878, became a cycling hero, industrial titan and Jazz Age icon of fast-lane glamour."

—INDY STAR 

"A FANTASTIC book. Not only does it capture the essence and soul of this individual but it is also an admirable piece of cultural history that crisscrosses—like the man himself—over two different, yet inextricably linked cultures. Most biographies of sportsmen end up as invariably boring catalogs of events but this is a real biography, with a a subtle portrait and a historical contextualization that gives it great energy. Since my Dad and his father came from the same area as Albert Champion (the 17th arrondissement), I had a very personal attachment to this story.... As an avid cycling fan, I thoroughly enjoyed the vivid descriptions of these early heroic races."
 
—Arnaud Blin, French Historian, author of Les Batailles Qui Ont Change l'Histoire