You are here
Back to top
We Both Laughed in Pleasure: The Selected Diaries of Lou Sullivan (Paperback)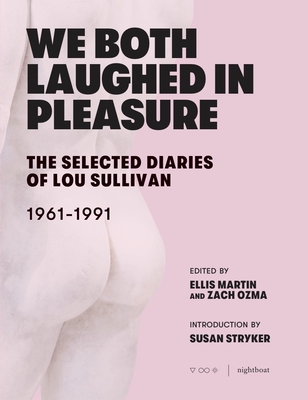 $21.95

Usually Ships in 1-5 Days
Description
---
"Celebratory, even radical"--The New Yorker
"Monumental"--Hyperallergic
We Both Laughed In Pleasure: The Selected Diaries of Lou Sullivan
narrates the inner life of a gay man moving through the shifting social, political, and medical mores of the second half of the 20th century. Sullivan kept comprehensive journals from age 11 until his AIDS-related death at 39. Sensual, lascivious, challenging, quotidian and poetic, the diaries complicate and disrupt normative trans narratives. Entries from twenty-four diaries reveal Sullivan's self-articulation and the complexity of a fascinating and courageous figure.
2020 LAMBDA LITERARY AWARD WINNER
About the Author
---
Louis G. Sullivan (b. Milwaukee, 1951; d. San Francisco, 1991) was a writer, activist, typesetter, trans historian and ground breaking queer activist. Sullivan began writing his life in diaries as an adolescent and continued until his death from AIDS complications. The first publicly gay trans man to medically transition, Lou meticulously journaled his experiences (romantic, lascivious, challenging, quotidian, poetic, political). Sullivan left 8.4 cubic feet of archival material from his life and studies to the GLBT Historical Society in San Francisco, of which he was a founding member.Ellis Martin works with digital derivatives in the interstice of art and archive. He holds a BA in Visual and Critical Studies from Mills College. His short films have screened at San Francisco Transgender Film Festival and Trans Stellar Film Festival.Zach Ozma is a poet, potter, and social practice artist. In 2015, Ozma received a BFA in Community Arts from California College of the Arts in Oakland. He lives and works in Philadelphia and is the author of BLACK DOG DRINKING FROM AN OUTDOOR POOL (forthcoming from Sibling Rivalry Press, 2019).