You are here
Back to top
The Image Business: Get the picture, tell the story. (Hardcover)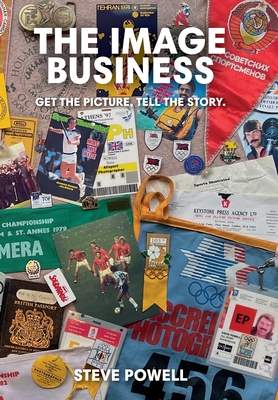 $36.75

Usually Ships in 1-5 Days
Description
---
In The Image Business, Steve Powell's autobiography lifts the lid on the development of sports photography and photojournalism. With a no holds barred account of his life as a working photographer and business innovator, he tells of covering world-beating sporting successes and occasional failures, and of how he built the Allsport Photographic agency into an industry leader that made him a millionaire.
"The authors' experiences are so vast and often outrageous that it's easy to forget that this is a true story." L Lemay.
He has worked with everyone from world beating powerboat racers to Olympic greats such as Seb Coe and Daley Thompson. Muhammad Ali, Bjorn Borg, Seve Ballesteros and Diego Maradona have all been his subjects during a lifetime of capturing iconic images.
"In a book market full of often told stories, this is a unique and compelling read." MarcoVB.
Unique insights into the athletes and administrators who shaped sport over thirty years could only come from a true insider. He gives a fascinating and fast-paced narrative of a career that began on the gritty streets of London and took him to every global arena where sport is played, working with every major publication and sponsor as he developed ways to help them deliver their messages.
- "This book is right up there with Phil Knight's "Shoe Dog"." Anonymous
Powell reveals the struggles of an emerging independent agency as it fought to gain recognition, how it helped break the union stranglehold on Fleet Street and established Allsport and its photographers as the go-to source for all that was best in the emerging sports photography industry.
- "This is a thoroughly entertaining book and, I believe, an important one." R Bundy.
Follow his riveting personal narrative as he describes how he overcame personality clashes that almost brought the agency to its knees and how riding the tide of advancing technologies helped create a unique business model. Always just one step ahead of the opposition, his career mirrors how he harnessed fast moving changes in the industry to create his own unique place in sports media history.
"(The author) has you feeling as if you are right there living it alongside him." Anonymous.
This is the story of the man who built the world's biggest and most famous sports photography business and under whose guidance, became the first official photographer to the International Olympic Committee and worked with every major sporting organisation, governing body and athlete in Europe, and North America.
"A truly inspiring read, by a truly inspiring guy. His life, his travels keep you reading until the end. What a life, great read." J Tilley.
Finally, the book traces with engaging candour his learning curve in preparing the company for sale, turning the business of capturing images into capitalising images as a business. The buyer was Mark Getty and guided by Powell, Allsport became a bedrock in the rapidly emerging Getty Images and made Powell more successful than he could have imagined.