You are here
Back to top
In the Presence of Absence (Paperback)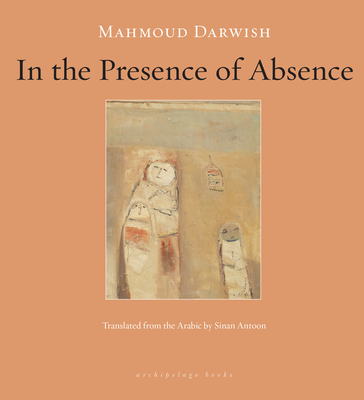 $16.00

Usually Ships in 1-5 Days
Description
---
Winner of the 2012 National Translation Award

"What Sinan [Antoon] has done with In the Presence of Absence is a kind of miraculous work of dedication and love. Reading this volume is sheer enjoyment and sublimity."
—Saadi Yousef

"There are two maps of Palestine that politicians will never manage to forfeit: the one kept in the memories of Palestinian refugees, and that which is drawn by Darwish's poetry."
—Anton Shammas

One of the most transcendent poets of his generation, Darwish composed this remarkable elegy at the apex of his creativity, but with the full knowledge that his death was imminent. Thinking it might be his final work, he summoned all his poetic genius to create a luminous work that defies categorization.
 
In stunning language, Darwish's self-elegy inhabits a rare space where opposites bleed and blend into each other. Prose and poetry, life and death, home and exile are all sung by the poet and his other. On the threshold of im/mortality, the poet looks back at his own existence, intertwined with that of his people.
 
Through these lyrical meditations on love, longing, Palestine, history, friendship, family, and the ongoing conversation between life and death, the poet bids himself and his readers a poignant farewell.
About the Author
---
Mahmoud Darwish (1941–2008) was born in the village of al-Birwa, in the Galilee, Palestine. He became a refugee at age seven. He worked as a journalist and editor in Haifa and left to study in Moscow in 1970. His exilic journey took him to Cairo, Beirut, Tunis, Paris, Amman, and Ramallah, where he settled in 1995. He is one of the most celebrated and revered poets in the Arab world. He published more than thirty books, and his poetry has been translated into thirty-five languages. Darwish was named a Knight of the Order of Arts and Letters by France in 1993, was awarded the Lannan Cultural Freedom Prize in 2001, the Prince Claus Awardin 2004, and the Cairo Prize for Arabic Poetry in 2007.

Sinan Antoon is an Iraqi poet, novelist, and translator. His co-translation of Darwish's poetry was nominated for the PEN Translation Prize in 2004. He is the author of The Baghdad Blues, I'jaam: An Iraqi Rhapsody, and The Pomegranate Alone. He is Assistant Professor of Arabic Literature at New York University.
Praise For…
---
Winner of 2012 ALTA National Translation Award 

(Mahmoud) Darwish's later poems are long, open-ended, traveling far in time and space, balancing many seemingly incongruous elements, moving in one line from the quotidien to the epic... His poetry is polyphonic, containing the voices of lovers, enemies, parents, former selves. The poet's own identity often gently disintegrates or splits...His humanity, (Darwish) argued, was safeguarded by acknowledging the humanity of his enemy. —New York Review of Books

"No list on Palestinian literature is complete without the acclaimed poet Mahmoud Darwish . . . In the Presence of Absence is a fascinating piece of prose, with an aging Darwish reflecting on his youth and tracing the journey that his life will take him, infused with the poetic voice for which Darwish is renowned." —Esquire

Beautiful... inescapably lyrical. —Bookslut

Mahmoud Darwish [is] perhaps the foremost Palestinian poet of last century. —Tablet

There are two maps of Palestine that politicians will never manage to forfeit: the one kept in the memories of Palestinian refugees, and that which is drawn by Darwish's poetry. —Anton Shammas

Then came silence. Mahmoud Darwish began to read. We did not know a word of Arabic, but we heard his voice reach out and sink deep down to pluck the strings of the Palestinian soul. It was a magical night in Ramallah, the magician, Mahmoud Darwish, whose spell was cast the way it has been through ages--simply by being that elusive archetype, much envied and feared by power—a poet at ease with, because attuned to, his own people. —Wole Soyinka

Mahmoud Darwish is one of the greatest poets of our time. In his poetry Palestine becomes the map of the human soul. —Elias Khoury

Darwish is the premier poetic voice of the Palestinian people... lyrical, imagistic, plaintive, haunting, always passionate, and elegant--and never anything less than free—what he would dream for all his people. —Naomi Shihab Nye

[A] unique achievement... It offers costly wisdoms from a life journey, rendered in the opaque lyricism of Darwish's poetry...His is the voice of dispossessed Palestine but its longings, including sheer lust, are universal. This book overflows with resonant lines and questions... It is a book for life. —The Independent