You are here
Back to top
Easy Greenhouse Gardening: A Beginners Guide To Growing Fruit And Vegetables All Year Round: Greenhouse Gardening Guide For Beginners (Paperback)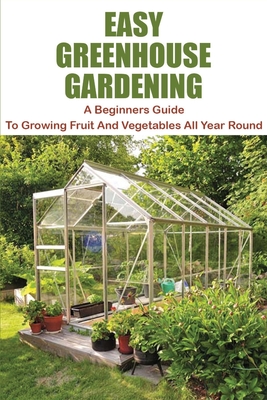 Description
---
Grow your own vegetables, herbs and fruit anytime, anywhere.
By the winter solstice, it becomes too cold and dark in many regions for anything much to grow in the garden. This is when a lot of gardeners gear up using a greenhouse. Greenhouse gardening provides the opportunity to extend the growing season, grow plants that normally don't survive in your region or to jump-start a new growing period. Whatever your reason to start your greenhouse project, this book is the right companion on your journey.
In this Greenhouse Book For Beginners, you will discover:
- 3 useful pointers to help you choose the ideal location for your greenhouse
- How to design and build your own greenhouse
- Choosing the frame and cover materials best suited for your needs and budget
- 4 important factors to consider before buying a ready-made greenhouse
- Different types of crops you can grow during the warm and cold seasons
- Climatic conditions to consider when keeping a greenhouse for each of the four seasons of the year
- 3 simple tips to help protect your crops against diseases
- Every tool you need to help you succeed as a greenhouse farmer
- A simple, 4-step method to help you propagate your greenhouse plants with a high survival rate
...and much more
Take the first step to running your own greenhouse. To get started, scroll up and grab your copy.